WOW! It's here! My second post for the Craft Room Challenge where I get to share with you the results from Week 1 where I took time to work on tidying up my craft space!
I'm late a little late in posting this just because I was so busy actually doing things for the challenge that I didn't take my pictures until last night. Woops. But I am so proud with how far things have come and can't wait for you to see everything!
And don't forget to read my post from last week first, just so you can get an idea of where I started with this challenge!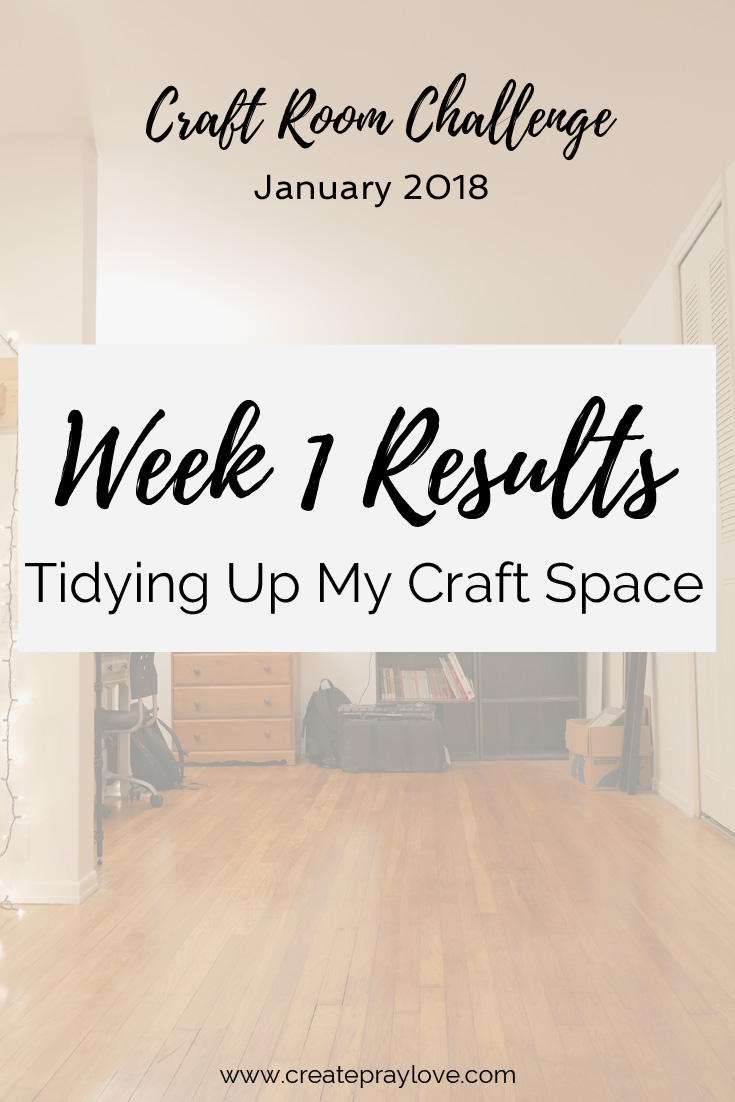 Week 1 Goals & Results:
Goal #1: Clean Off Work Surfaces
Results: Because I don't have a craft room, my work surfaces usually end up being my coffee table, kitchen table, or anywhere in our den. You can see clearly see that for yourself in all the before pictures I showed you in my post from last week!
I have to say it feels good to have everything cleared off! Here you will see a clean coffee table, & a living room without a trashbag of in-progress projects in the corner.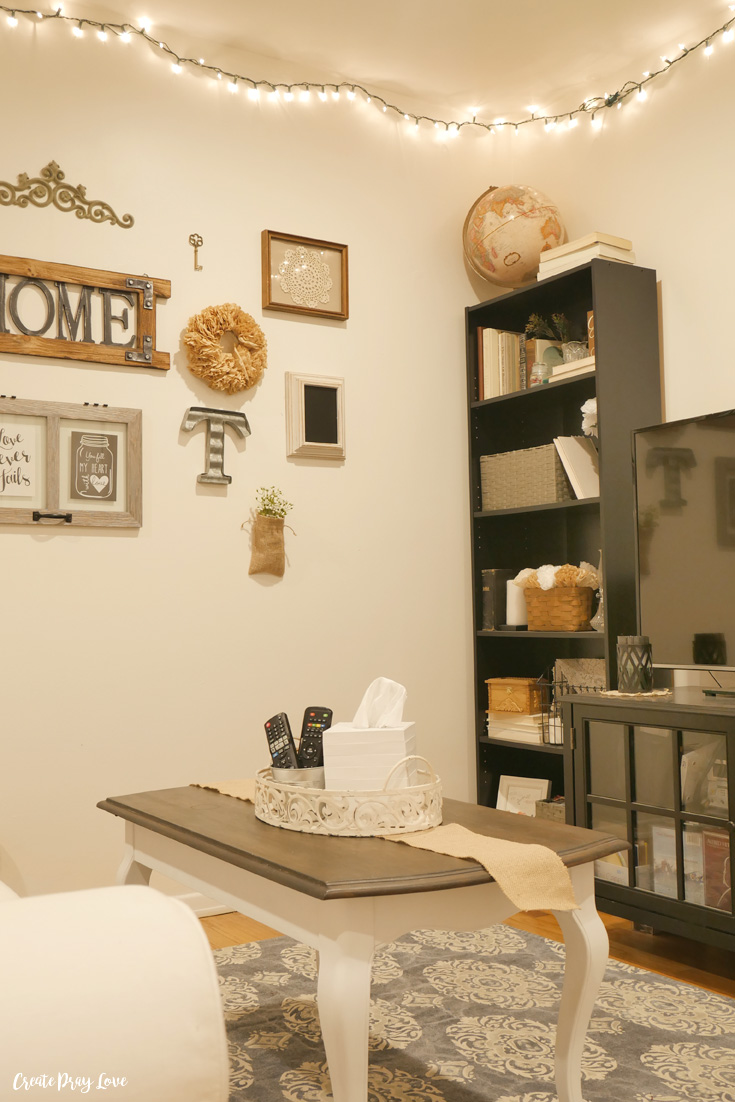 And here is our clean kitchen table!
PS- Please don't judge me for still having my Christmas printables framed. 😉 I'll get to switching that out eventually.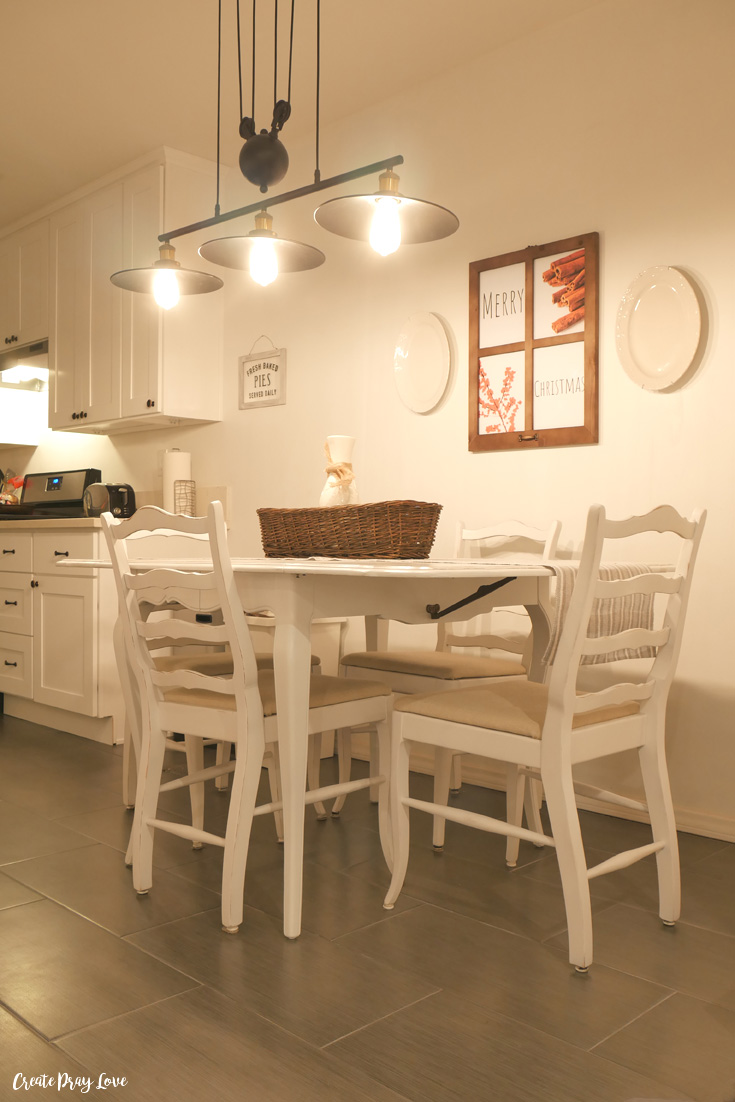 Goal #2: Put Things Away & Tidying Up My Craft Space
Results: I did it! I put away any supplies I had sitting out as well as half-finished projects and some of our film/photography equipment. I also have all the Christmas decor in our storage room now which is a huge success! It was sad to see it go, but I kept the twinkle lights up in the living room to keep it cozy for winter. And also I can't deny how good it feels to have our place so cleaned up. When you get to the pictures below of how our den looks now you will understand why!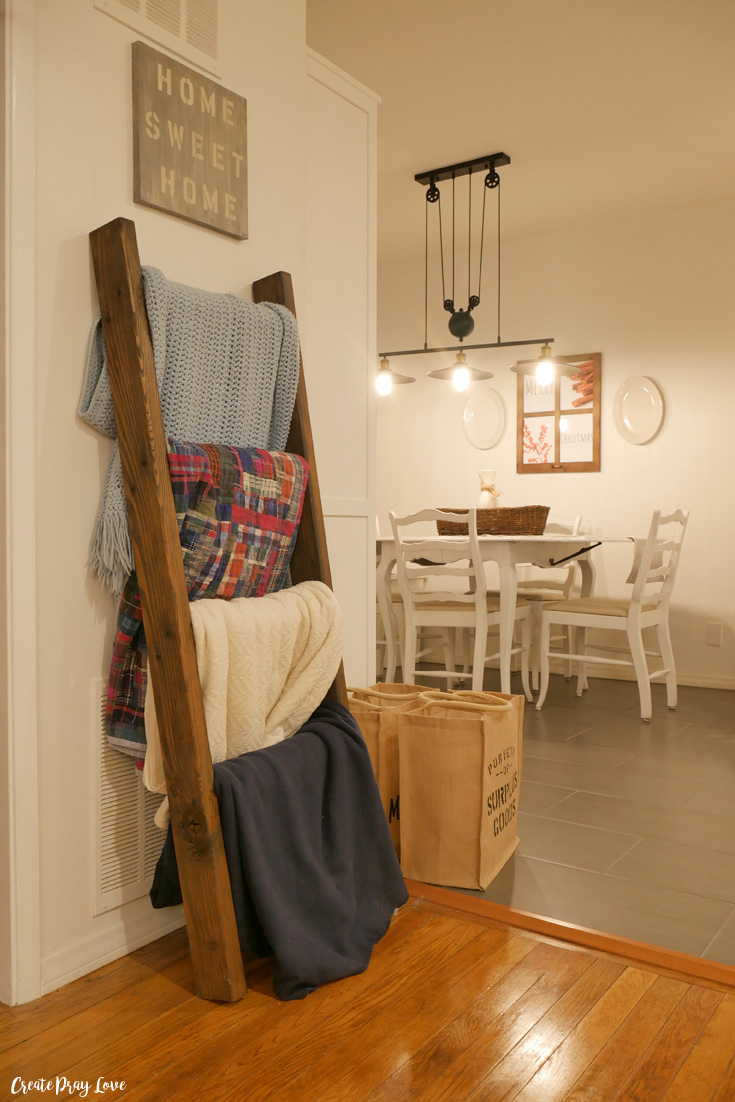 Goal #3: Start Purging My Supplies
Results: Part of tidying up for me was really going through all the stuff I had sitting out & figuring out if I wanted to keep it or not. Spoiler alert: I got rid of a lot of stuff!! And even though next week is the official purging & organizing week for the challenge, I am glad I got a head start on the big stuff because it's a lot to go through & I didn't have that many work surfaces to clear off!
So what I did do was clean out the closet in our den & work on getting rid of things that we had in the den that we weren't using or didn't need. One thing I am proud of was recycling a lot of the pieces of wood I've had in our den since last summer. They were leftover from a huge sheet of plywood that I bought to make shelves for my outdoor ladder storage unit, but I realized that they weren't the best quality of wood to keep for indoor projects. So they are gone!!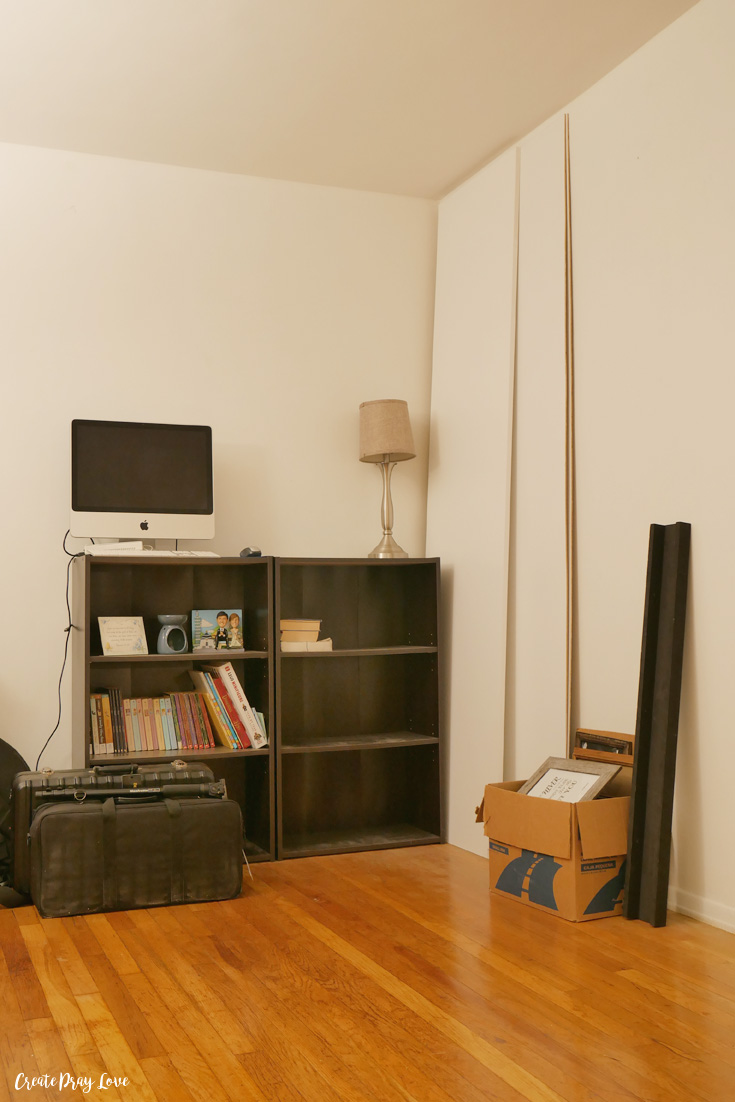 I also went through my painting supplies and cleaned off my crusty paint brushes, got rid of almost empty paint cans, & threw away old plastic/paper drop cloths that were full of dust & paint.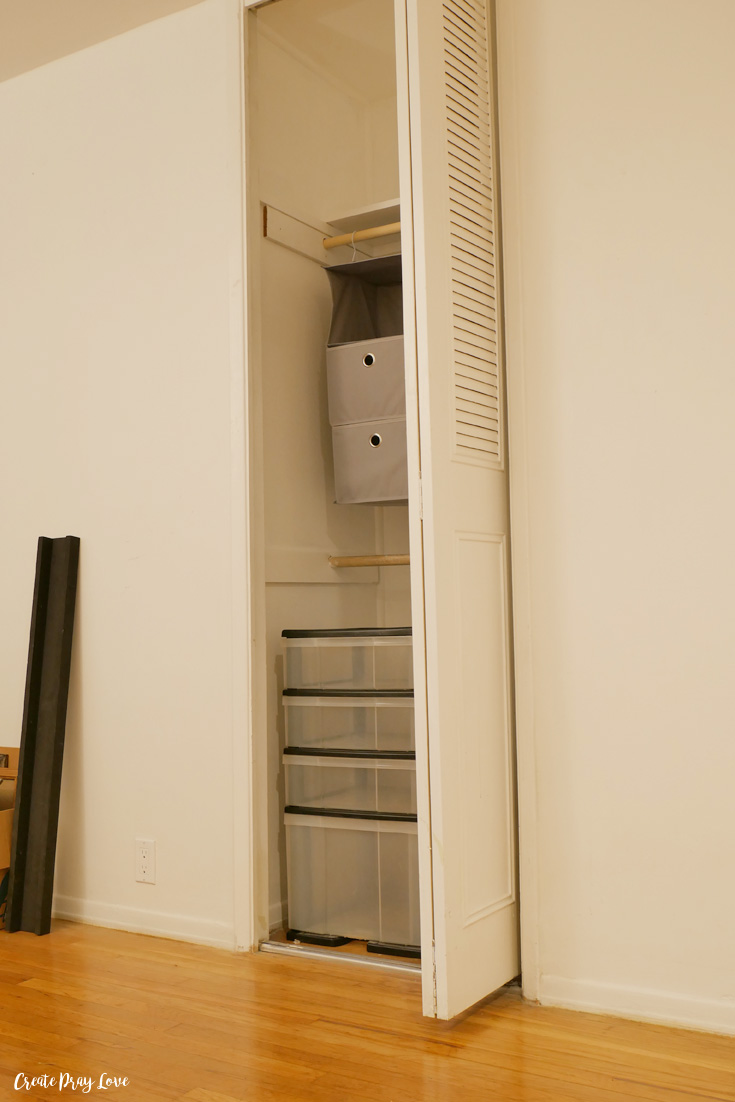 Notice how clean this closet is now?!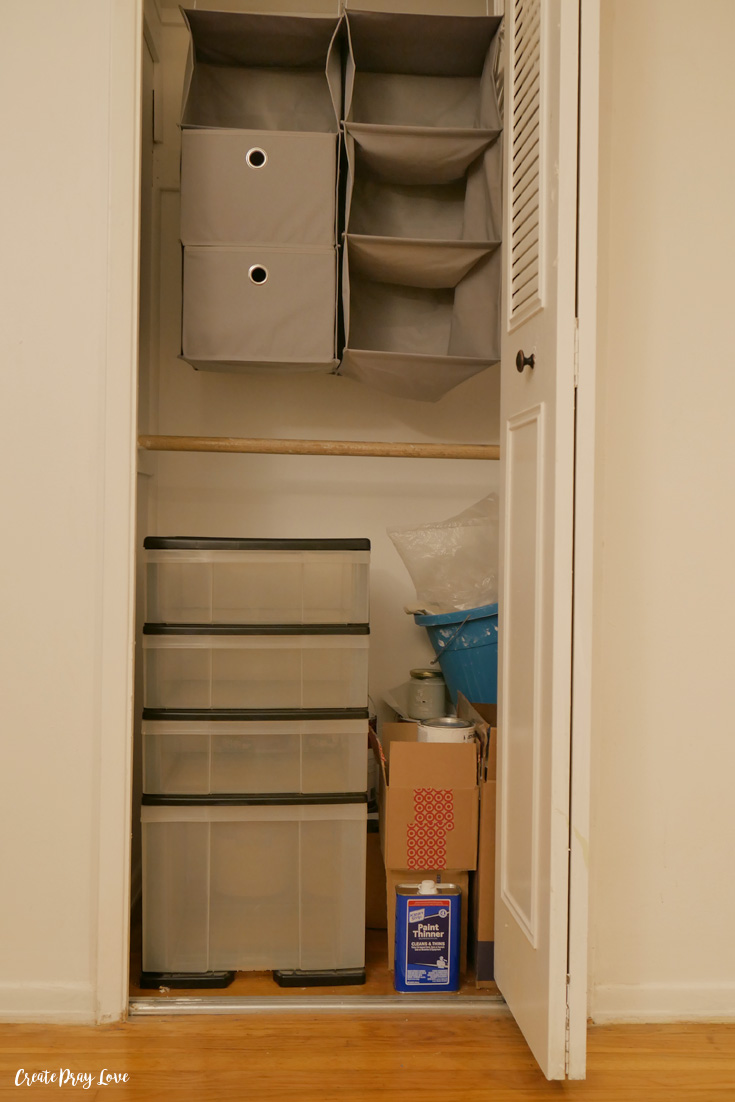 There are still some more things I want to work on like figuring out the best place for the rest of our film/photography equipment. And even though I went through my boxes of picture frames, I am still keeping some in here for now until we figure out how we want to decorate the den down the road!
So all in all, I am really happy with how far things have come in the den! I think we have made great progress.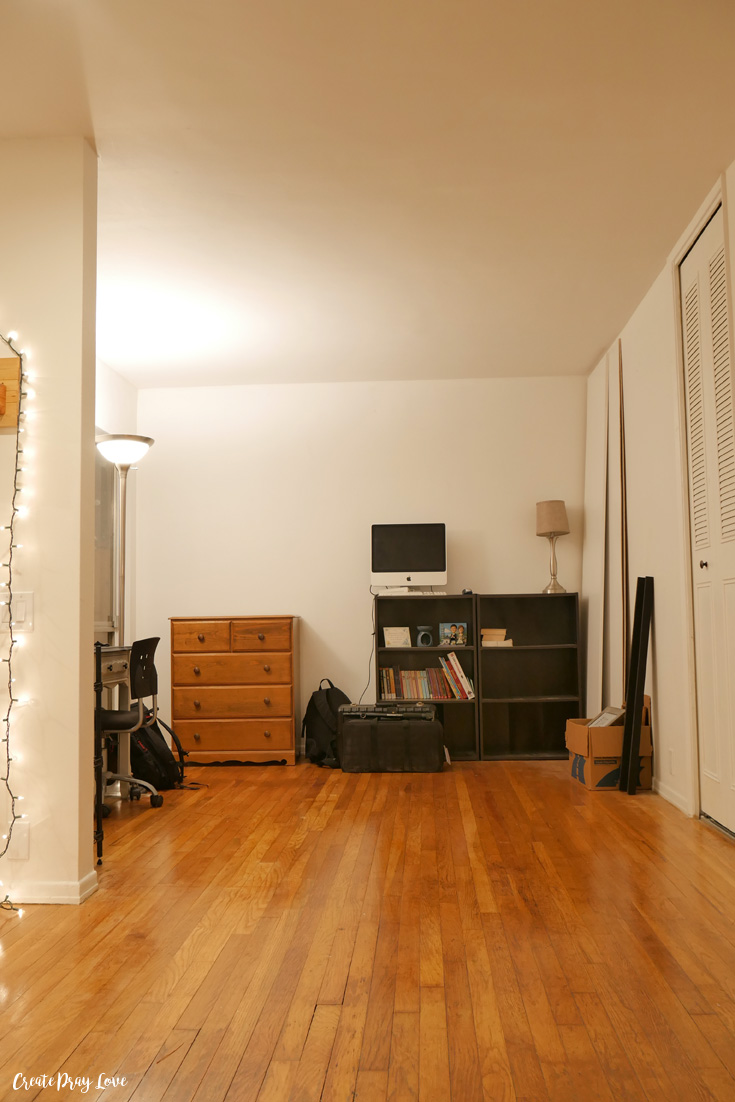 Goal #4: Start Working on My Messy Desk Area
Results: Of course I had to add something else to my week, but I couldn't resist! Remember how messy this desk area looked in my last post? We had all the desk drawers full of stuff, our shredder was underneath the desk, & our printer was sitting out on this wire shelf thingy? Well it is all cleaned out now because… we got a new desk!!! Scroll down for pictures!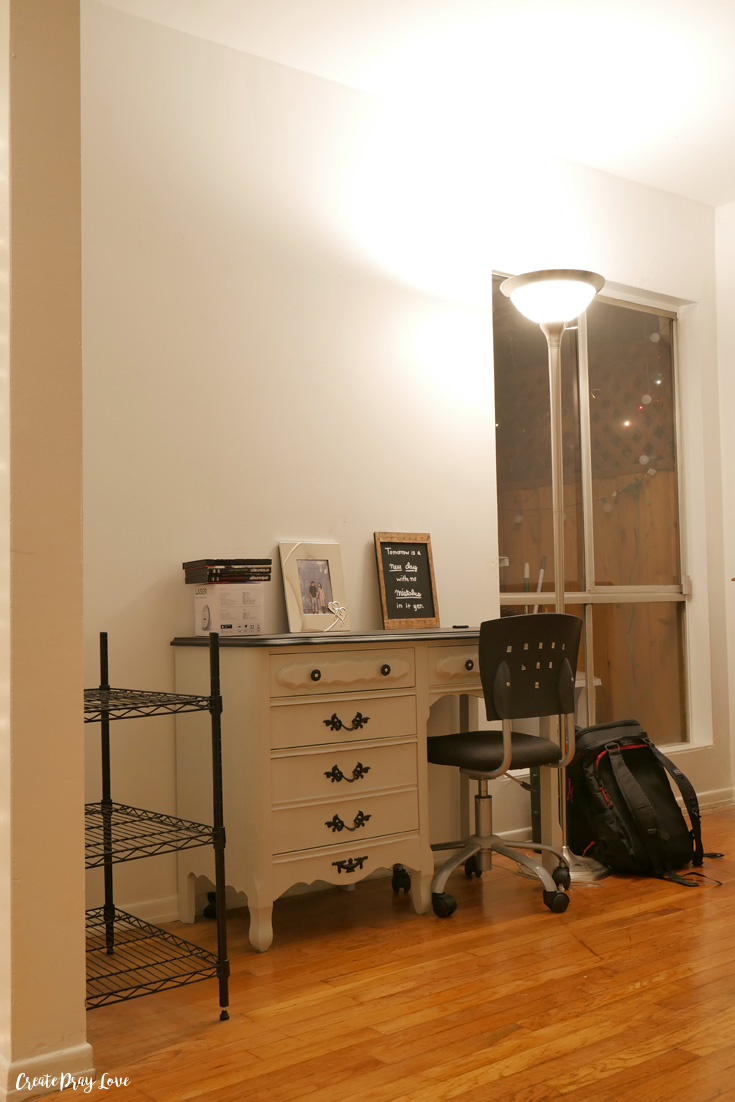 I literally couldn't wait to get my hands on this secretary desk from IKEA, because I've literally been eyeing it for months at this point! From the first moment I saw it on their website I knew it would be the perfect long-term solution for us.
One of my favorite things about this secretary is how the bottom section has shelves instead of drawers, so it's the perfect place for us to put our printer, shredder, and typewriter! It also fits very well next to our dining area, which is the most practical place for me to have a desk once we eventually move on to the next phase of our lives!
I'm going to be sharing more about this desk in another post very soon, but for now I just wanted to share how it has helped us in our journey of decluttering our den!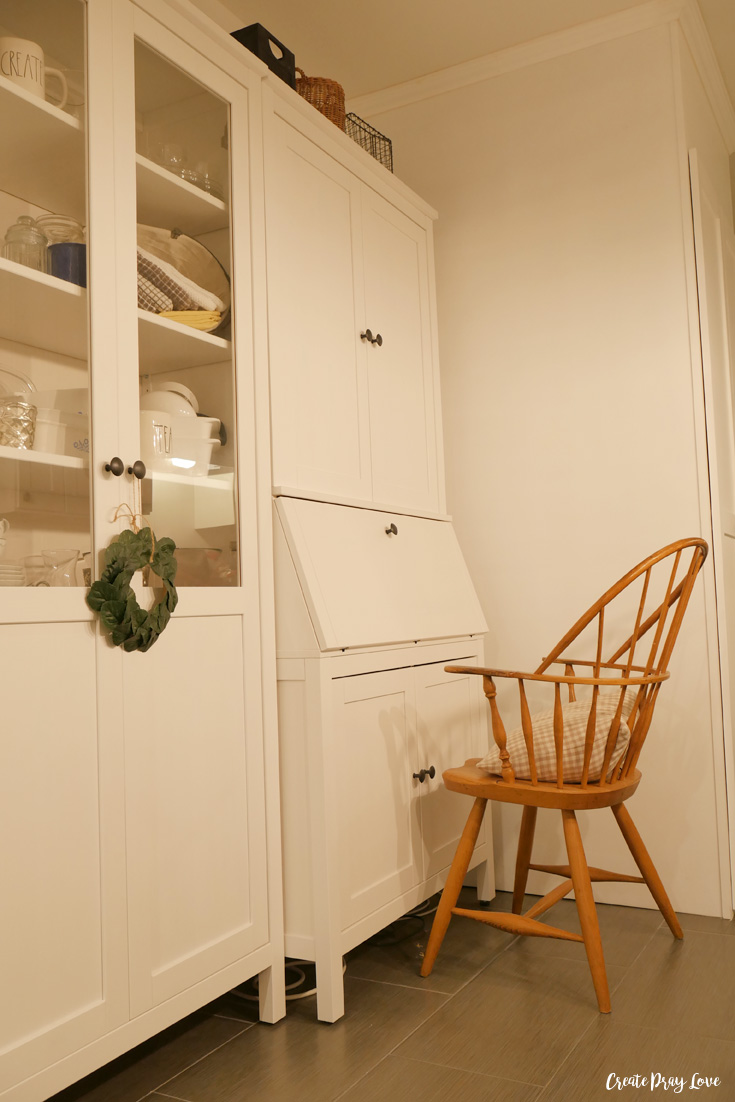 TAKEWAWAYS FROM WEEK 1: TIDYING UP MY CRAFT SPACE
I am thankful to have my "work surfaces" back! And I love how open & clean our den feels!
But also can I say again how OBSESSED I am with my new desk? I'm having fun organizing our desk supplies in there, which makes me excited to get to do more organizing with my craft supplies next week!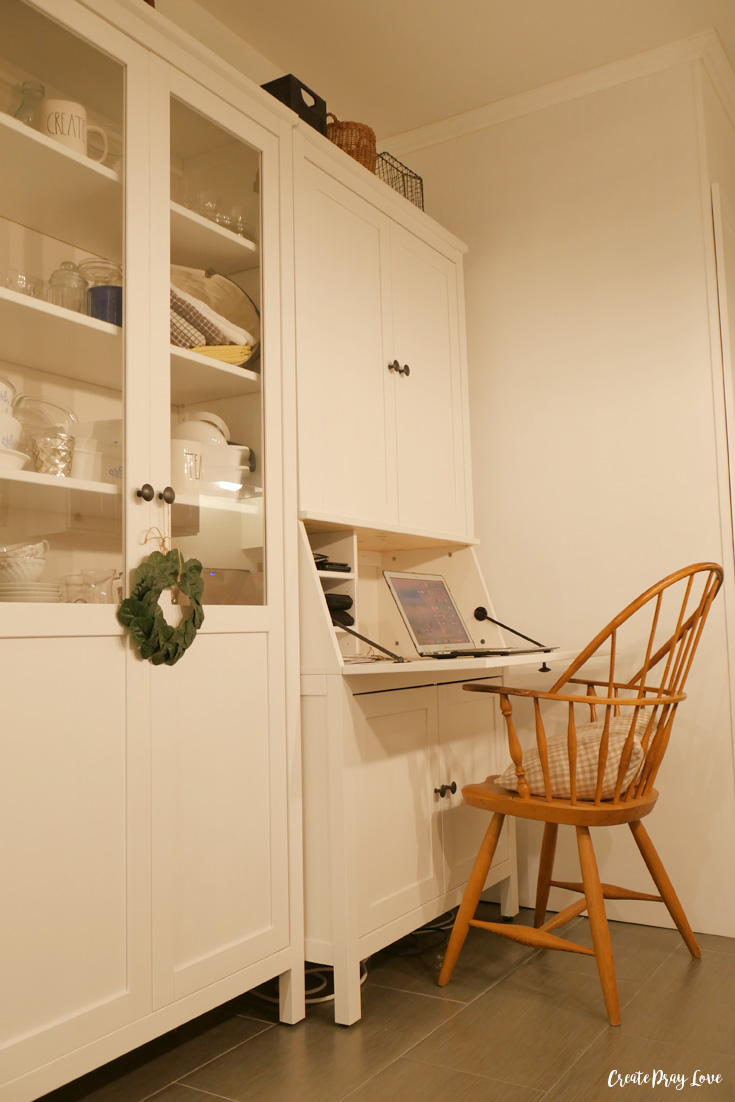 GOALS FOR WEEK 2
Purge & sort through my scrapbook supplies & fabric stash

Start to organize the craft supplies shelf in hallway cupboard

Organize the wire bins I use for storing my DIY project tools & power tools
MEET MY COHOSTS FOR THIS CHALLENGE!
Welcome to the 2018 Craft Room Challenge! From January 3rd through January 31st, 14 crafty bloggers will be sorting, organizing, cleaning, and decorating their craft spaces. Each of us has a very different craft space to tackle, so chances are you will find one similar to yours. We'd love for you to join in on the fun challenge and clean right alongside us. Follow along and join in on social media by using #craftroomchallenge and #confessyourmess. You can also find us and the challenge via our social media accounts you'll see listed on each of our sites. We'll also have 15-minute mini daily challenges for you in case you have limited time to dedicate to the challenge. We hope you share your messy spaces and progress with us so we don't feel alone this month!
Before you see the rest of the crafty spaces, please meet our lovely hosts:
Marie & Aleisha from The Inspiration Vault • Pam from P.S. I Love You Crafts
Yami from The Latina Next Door • Jolene from Create Pray Love
Habiba from Craftify My Love • Lyne from The Paper Addict
Megan from C'Mon Get Crafty • Erlene from My Pinterventures
Shirley from Intelligent Domestications • Valerie from Val Event Gal
Michelle from Our Crafty Mom
Now, let's take a look at their craft rooms and spaces!
Loading InLinkz ...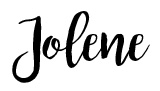 Connect with me on social media!
facebook - twitter - pinterest - instagram