Affiliate links have been used in this post. This means that I may earn a small commission from your purchase at no extra cost to you. If you have any more questions, please click here to read my policies page.
Hi friends! I am so excited to share a quick tutorial with you all today on how to make a simple DIY book page banner. Not only is it super cute & totally farmhouse style, but it is SO incredibly easy to put together!
Also, I have a printable for you that should help speed up the process. You'll be able to download it at the end of this post!
Alright, let's get started!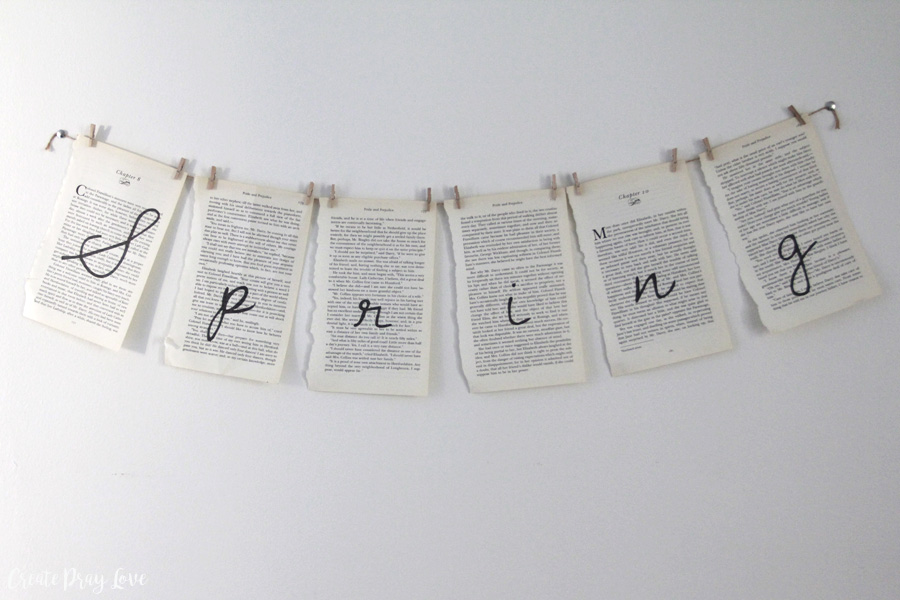 SUPPLY LIST:
A book you don't mind ripping up

Measuring tape

* or ruler*
Printer
Twine
Push pins
Mini clothes pins
I just want to take a sec here to say that if you're a book nerd like me & have lots of books around but don't want to ruin any of them in this way, then go get a book at the thrift store!
I found a copy of Pride & Prejudice there for a dollar & it's now going to be the book I use for all my book page projects. Because yes, I believe there are more to come. 🙂
STEP I: RIP OUT YOUR BOOK PAGES
Reminiscent of the "Do Re Mi" song from The Sound of Music, for this step you'll need one word for every note one page for every letter. (Get it?! If so, I can already tell that we should be BFFs.)
If you're doing a spring banner like me, then you'll need six pages! Rip them out & lay them in the order that you think looks best.
P.S. I know that this can feel almost sacrilegious. But again, I bought my book for a dollar & am planning on doing many projects with it! So it's definitely worth it.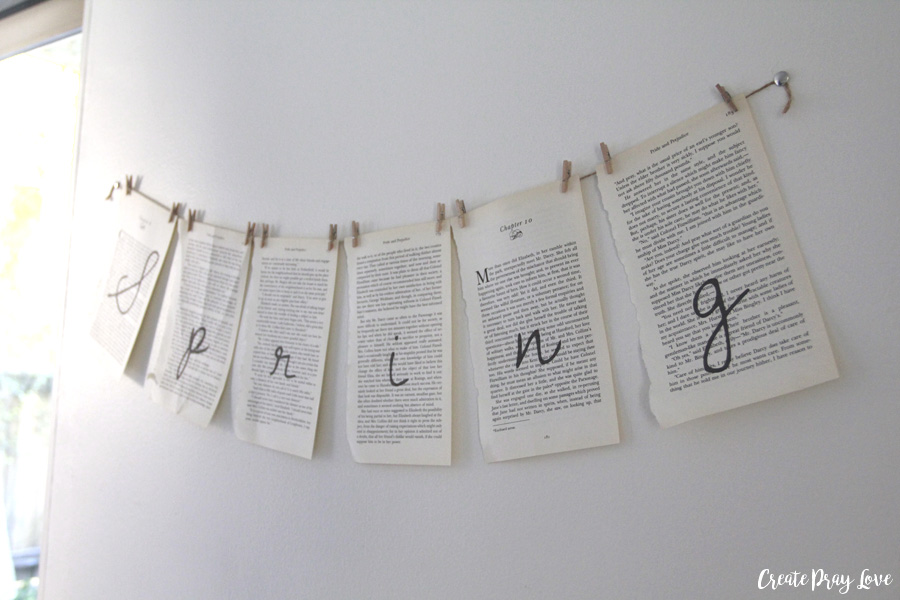 STEP 2: PRINT THE LETTERS ONTO YOUR BOOK PAGES
The first thing you need to do for this step is figure out the dimensions of your book pages using a measuring tape or a ruler. Mine were 4.75 inches by 8 inches.
Then, type your letters into any kind of word processing program, & customize the page settings to make sure they're the same size as your book pages.
You might want to do a few test prints at this point to make sure everything is lining up, & then you're all good to print away!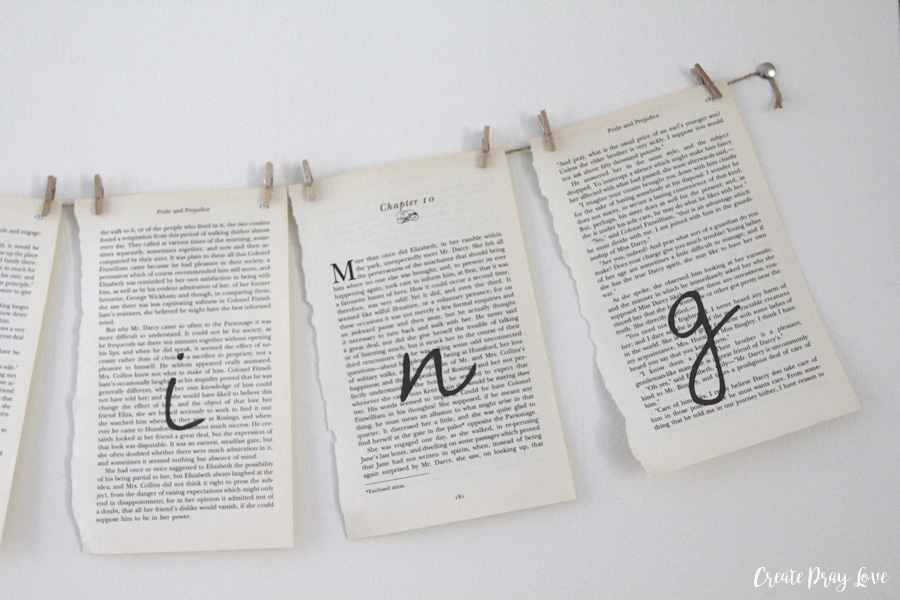 STEP 3: HANG YOUR BANNER
I recommend hanging your pages on the twine first, using the mini clothes pins, so that you can get a better idea of how long the piece of twine needs to be.
Next, cut the twine so that there is just a little bit leftover on each side. Then, decide where your push pins will go & start nailing them in!
Aaaaand then you're done!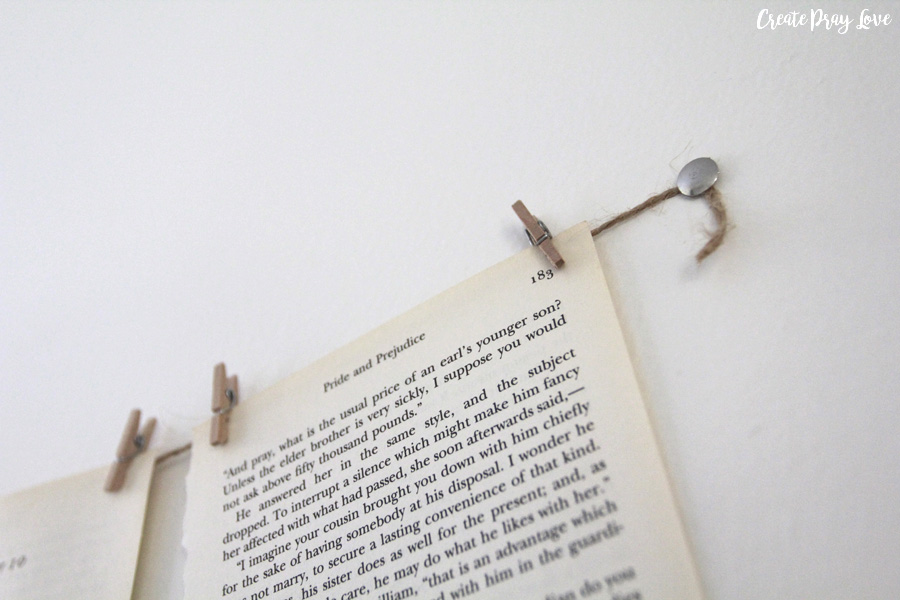 I think it's sooo cute!
This wall space next to our sliding doors has actually been empty since we moved in, so I am pretty excited to have something up there now.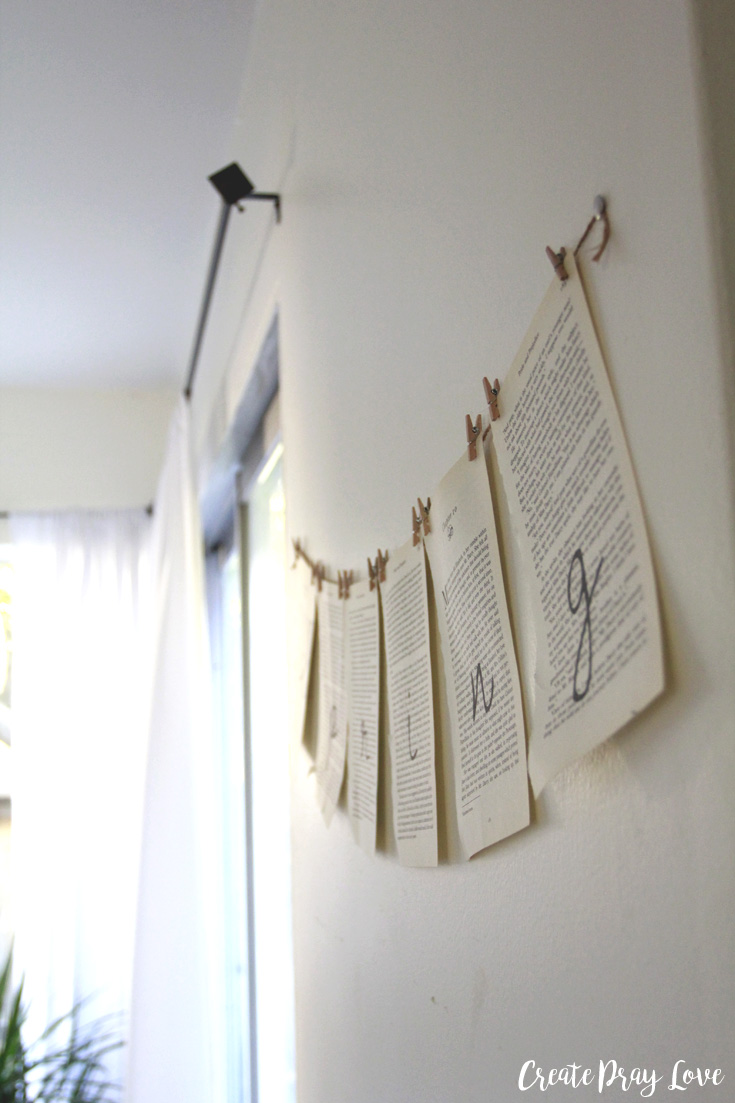 If you want to make one of these for your home, I have a free Word document printable available for you today that is all yours to customize! The current page dimensions are set to 4.75 inches by 8 inches, but feel free to change them up if you need to.
Here is your download link: Spring Book Page Banner Printable
Let me know if you have any questions about this project in the comments below, because I'd love to hear from you!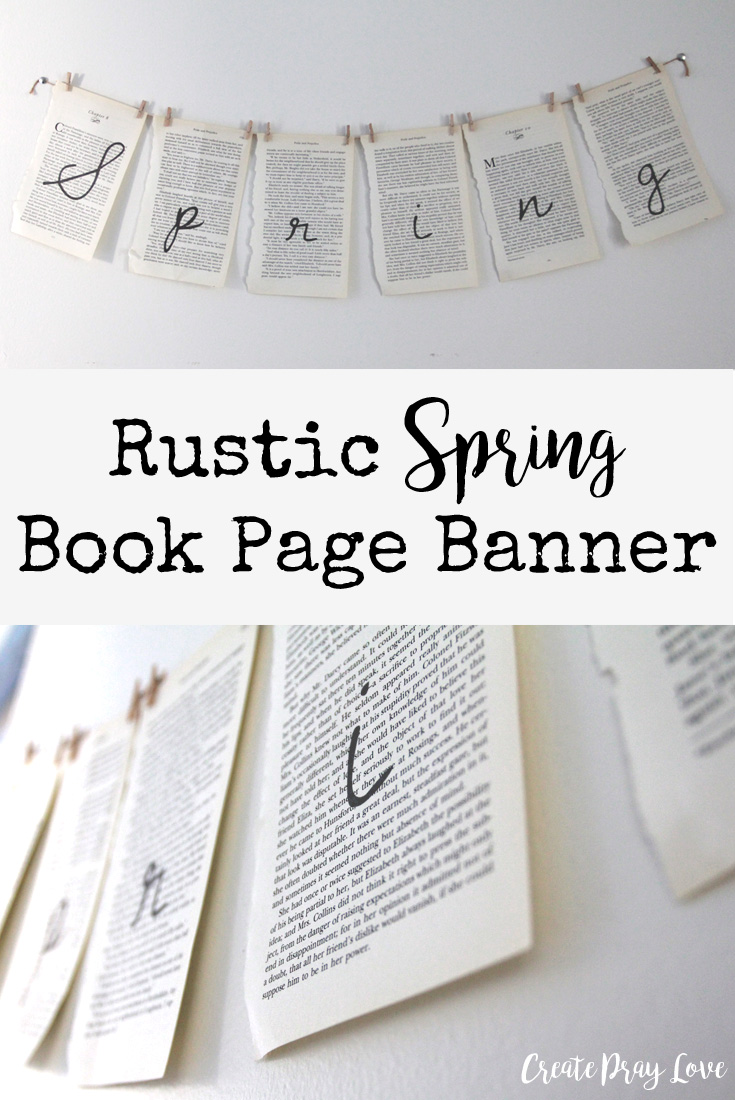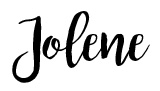 Connect with me on social media!
facebook - twitter - pinterest - instagram