*Affiliate links have been used in this post. This means that I may earn a small commission from your purchase at no extra cost to you. If you have any more questions, please click here to read my policies page.
I've been on a re-purposing streak lately. Every time I'm out shopping, I have my eyes peeled for anything interesting that I could use as unique decor in my home.
Then the other week, I found this old school paper towel holder on the shelf at a local thrift store. I moved on, not thinking I'd use it for anything. But then I stumbled across a collection of miniature white buckets, & I realized that with a little bit of elbow grease I could turn the paper towel holder into a DIY wall succulent planter for my living room!
I ended up making a different background for the piece since the original one wasn't what I wanted. And I'm so happy with how it turned out!
Want to make something like this for yourself? I've listed out all the materials & steps you'll need to follow below! Here is the before picture:
MATERIALS YOU'LL NEED
Pieces of wood

Light wood stain

Paint brush or rag

Sandpaper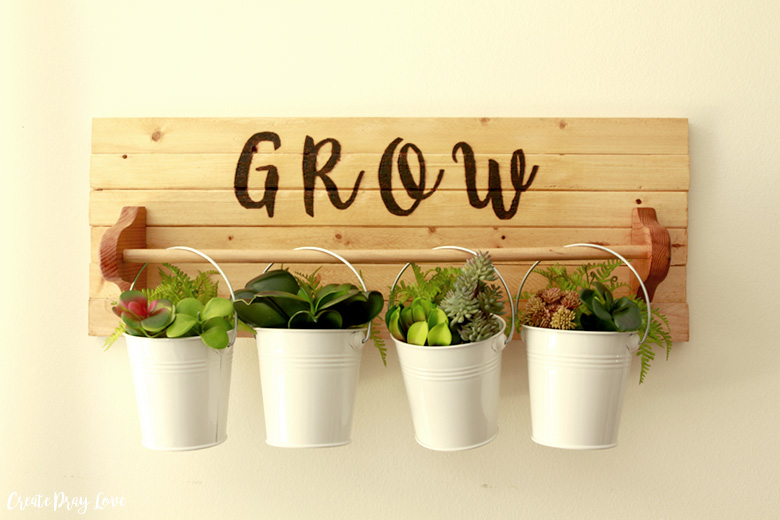 How to Make a DIY Wall Succulent Planter
Step 1: Cut the wood needed for a new backing
I used the bar from my paper towel holder as my guide to figure out what size the backing needed to be. You can probably find a wooden paper towel holder similar to this at any thrift store, which is going to be way easier than creating the bar from scratch. But if you can't find one, I'm sure there is a way you can DIY it!
The wood I used for this step was actually the same wood I used in my DIY Industrial Farmhouse Command Center. It's an 8 ft long piece that only costs a dollar! So I cut each piece to be just a bit wider than the bar, and I stacked six identical pieces together to give it a little bit of height.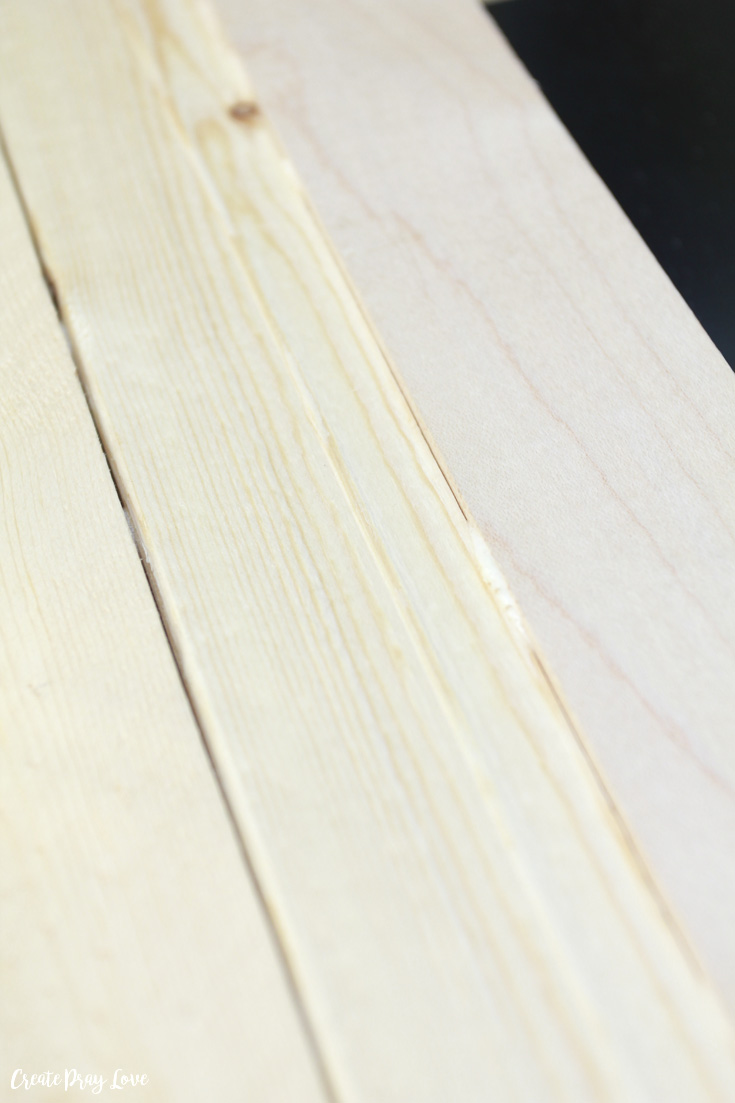 2. Glue the wood pieces together
After gluing them together with Gorilla Glue, I left them clamped together for two hours to make sure everything was dry before moving on.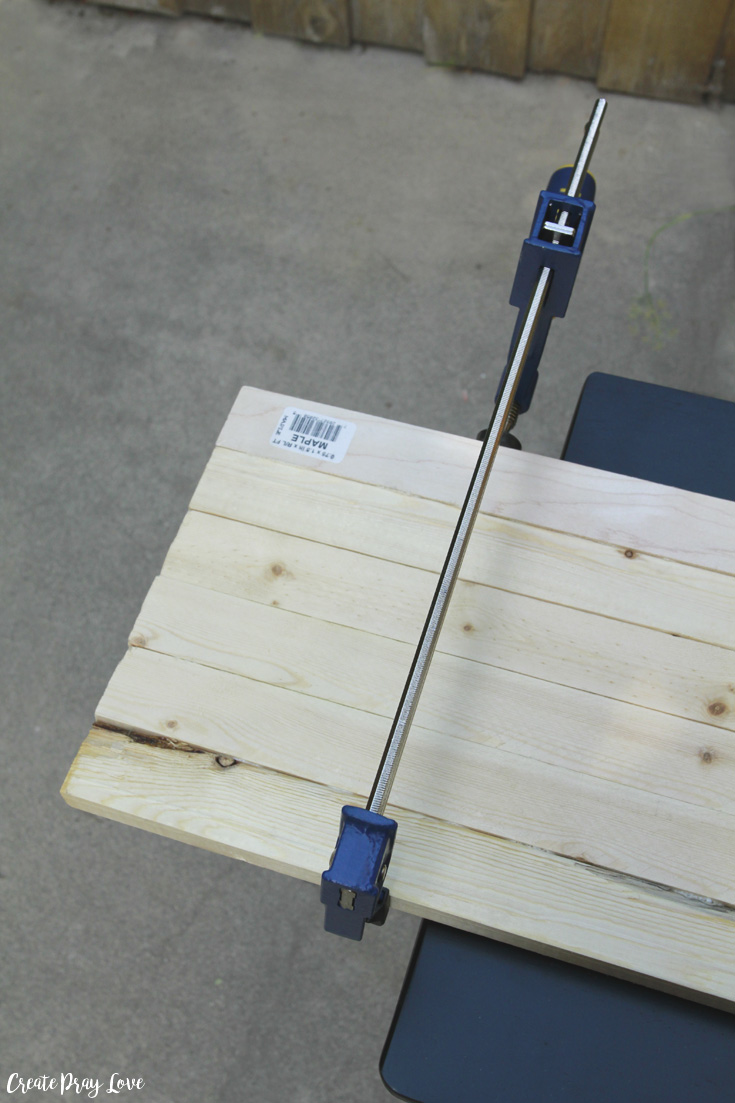 3. Use a woodburning kit to write on the backing
If you've never used a woodburning kit before, I actually have a full tutorial on how to do that here.
But the basics are that when you trace the letters on top of the graphite paper, it leaves a perfect outline on the wood for you.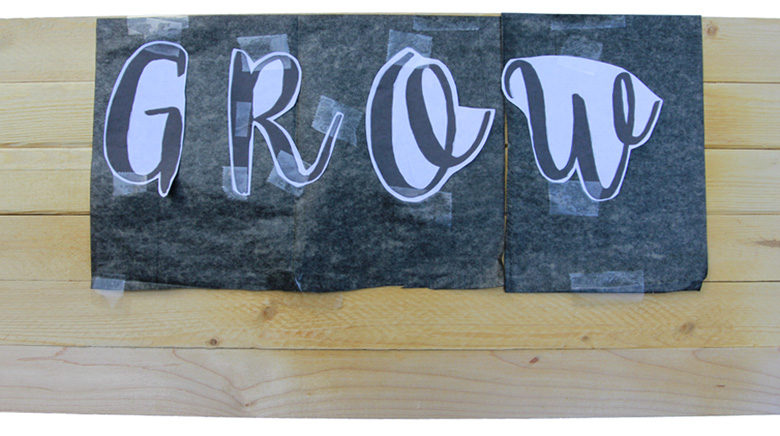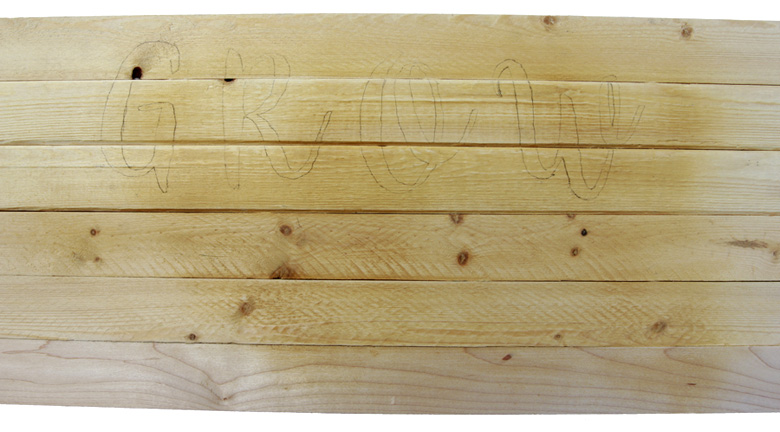 Then you simply trace the outline with a Flow Point woodburning tip, & fill it in with that as well.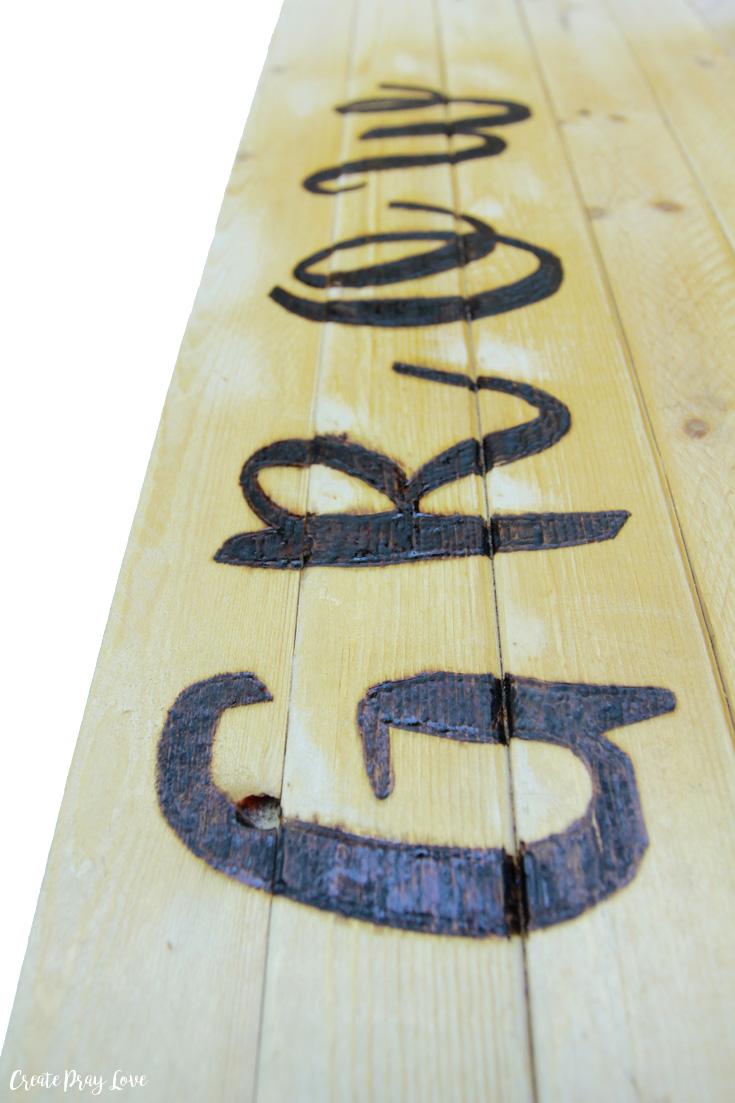 4. Stain the backing
Now comes the staining! I used a very light stain for this project as I wanted there to be contrast between the wood and the dark letters.
I recommend using a rag to wipe on the stain.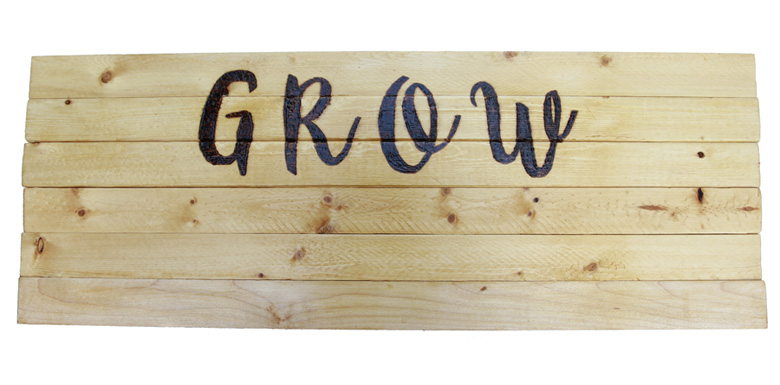 5. Screw the bar into the backing to create the wall planter
I glued the bar onto the wood backing first, & then screwed it in from the back!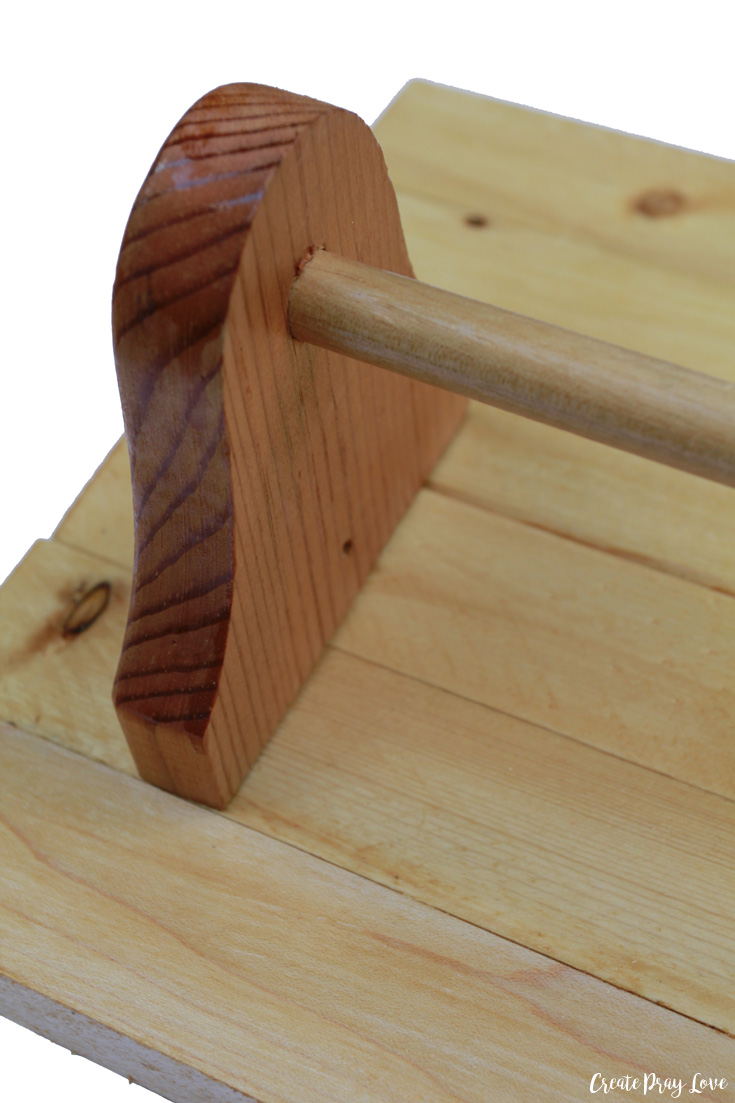 6. Hang the white buckets on the bar & fill with succulents!
I snagged ALL of these faux succulents during a huge sale at the craft store, & I couldn't believe how good of a deal I got on them. They originally would have cost well over $45 total, but I paid a little over $10 for them all!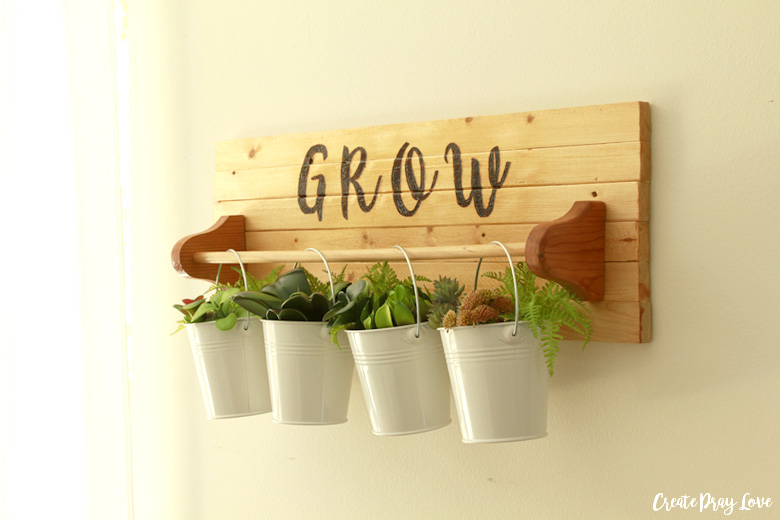 I had fun mixing them up with each other & figuring out what looks best. 🙂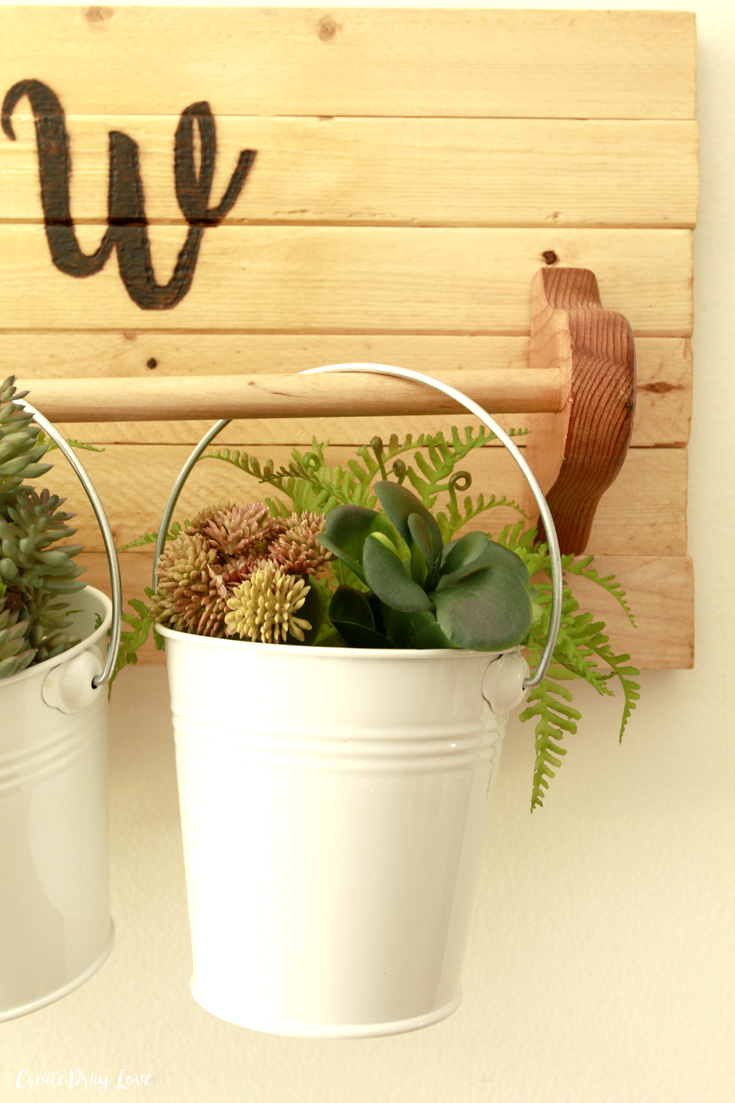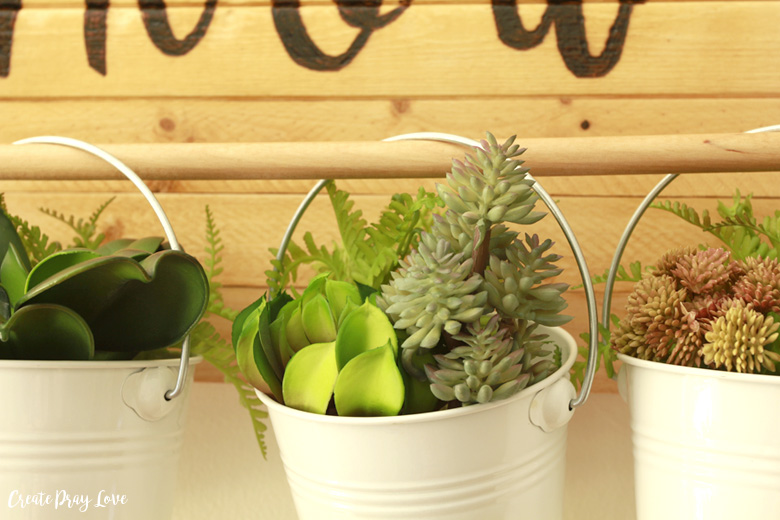 For now, this is hanging on our living room wall & we love the pop of color it brings to the space!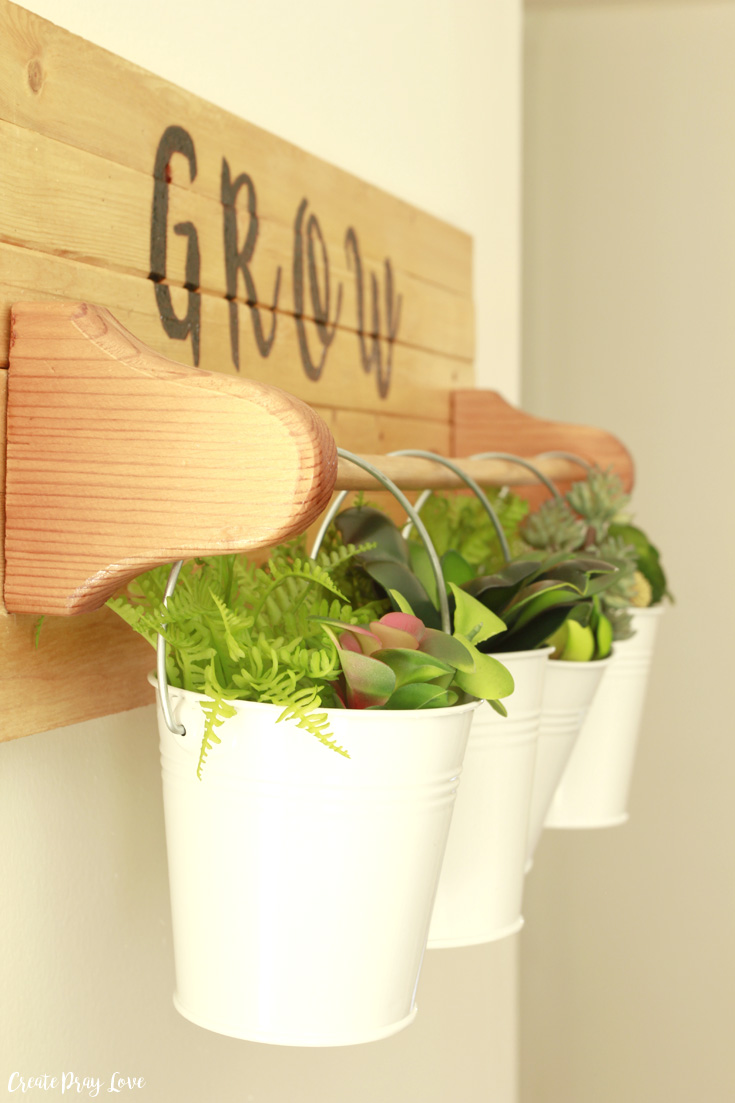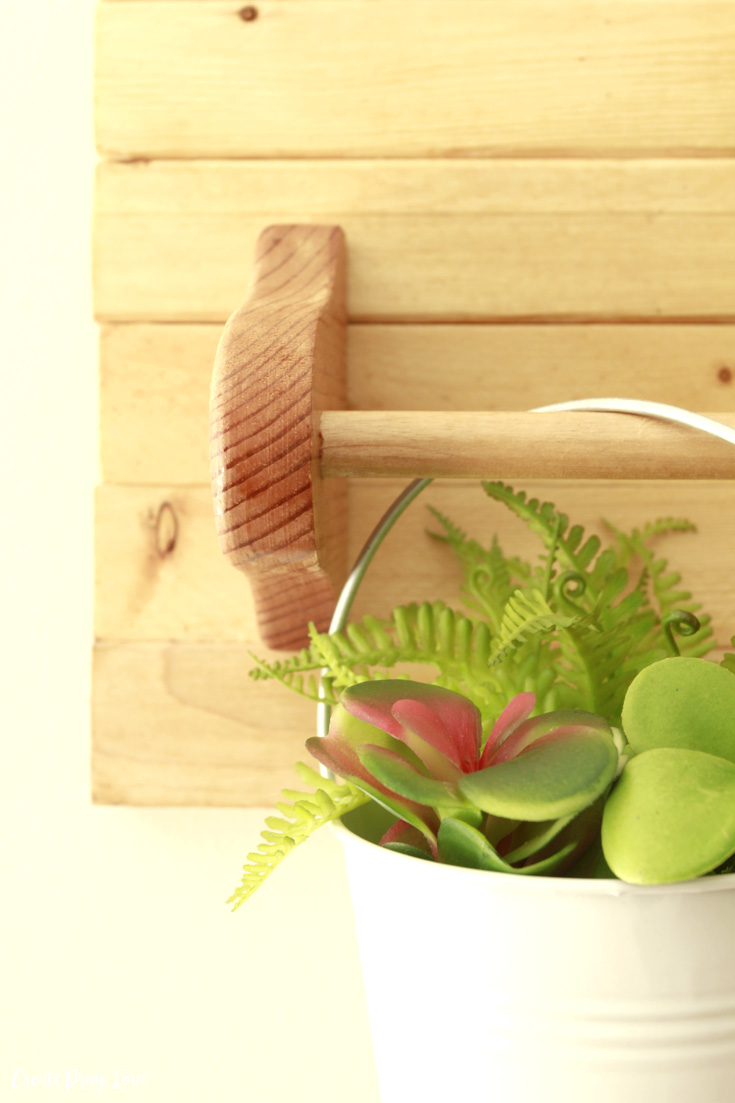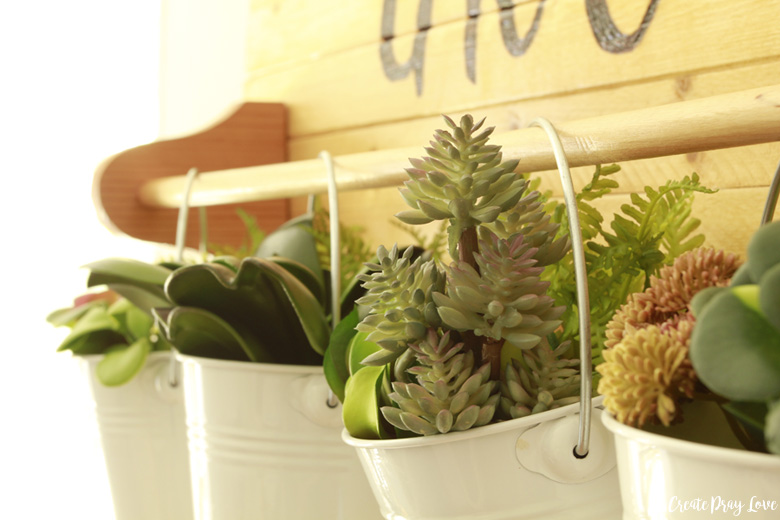 If you want to see my Pinterest board dedicated to pinning repurposing & upcycling projects, you can check that out here!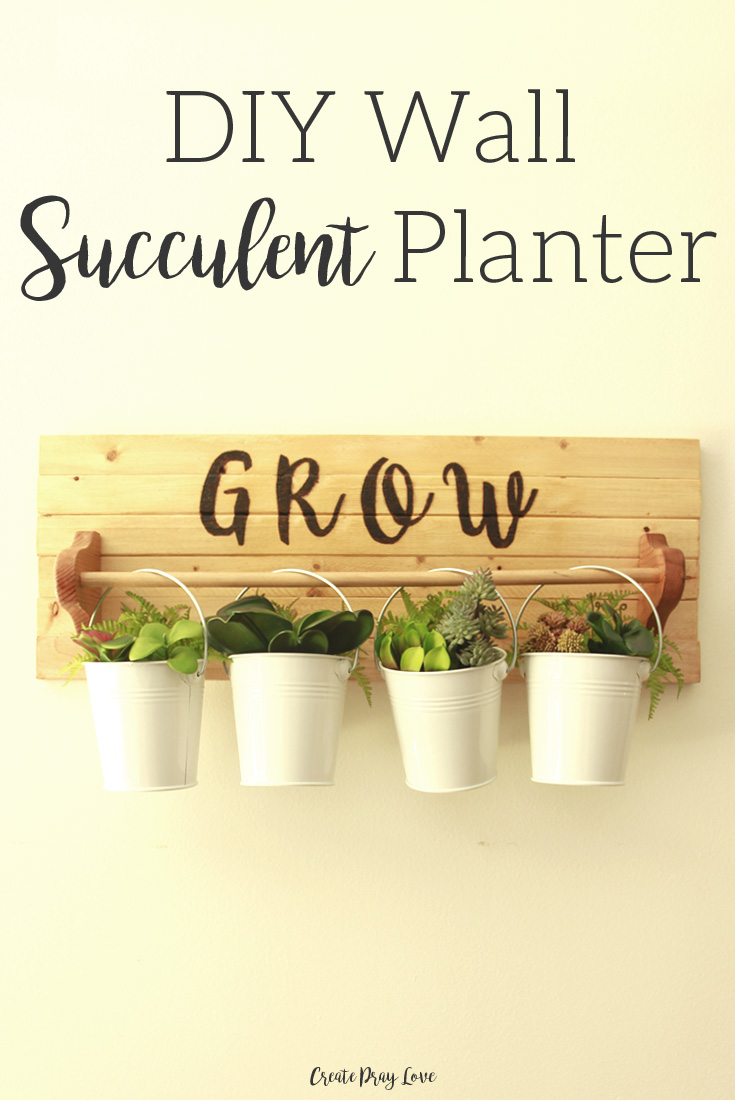 Do you have any succulents in your home? I'd love to hear your thoughts on this DIY wall succulent planter project in the comments!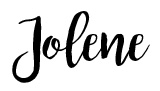 Connect with me on social media!
facebook - twitter - pinterest - instagram