Affiliate links have been used in this post about my Hearth & Hand Holiday Favorites. This means I can earn fees by linking to products on websites I am associated with via affiliate advertising programs. Please note that all affiliate links have been marked with an asterisk* such as this. If you have any further questions about this, you can click here to read my policies page.
It's that time! The newest home decor line at Target called Hearth & Hand is out in stores! This new line of products was exclusively created in partnership with Chip & Joanna Gaines of the Magnolia empire. And after browsing through their holiday products, I had to share some of my favorites with you!
The official release day was actually yesterday. Seeing everyone's shopping pictures on Instagram throughout the morning did make me a little jealous because  I didn't think I'd have the time to Target that day. There was just so much on my to-do list!
But after doing a bunch of errands, I spontaneously ended up at Target for something completely unrelated. And while rushing through the store, that's when I saw it… the Hearth & Hand display! I'd almost forgotten that being at Target meant I'd be able to see everything on release day.
It was really fun to browse through everything. I just bought a few of the everyday home goods because we already have pretty full kitchen cabinets. Although some things are definitely going on my wish list for later after I do a bit more decluttering!
So today I've rounded up a few of my favorite products that I think would be great for this Christmas season. I want to do another product roundup about my favorite all-year products as well, & I'll try to post that soon!
Alright, here they are! My Hearth & Hand Holiday Favorites.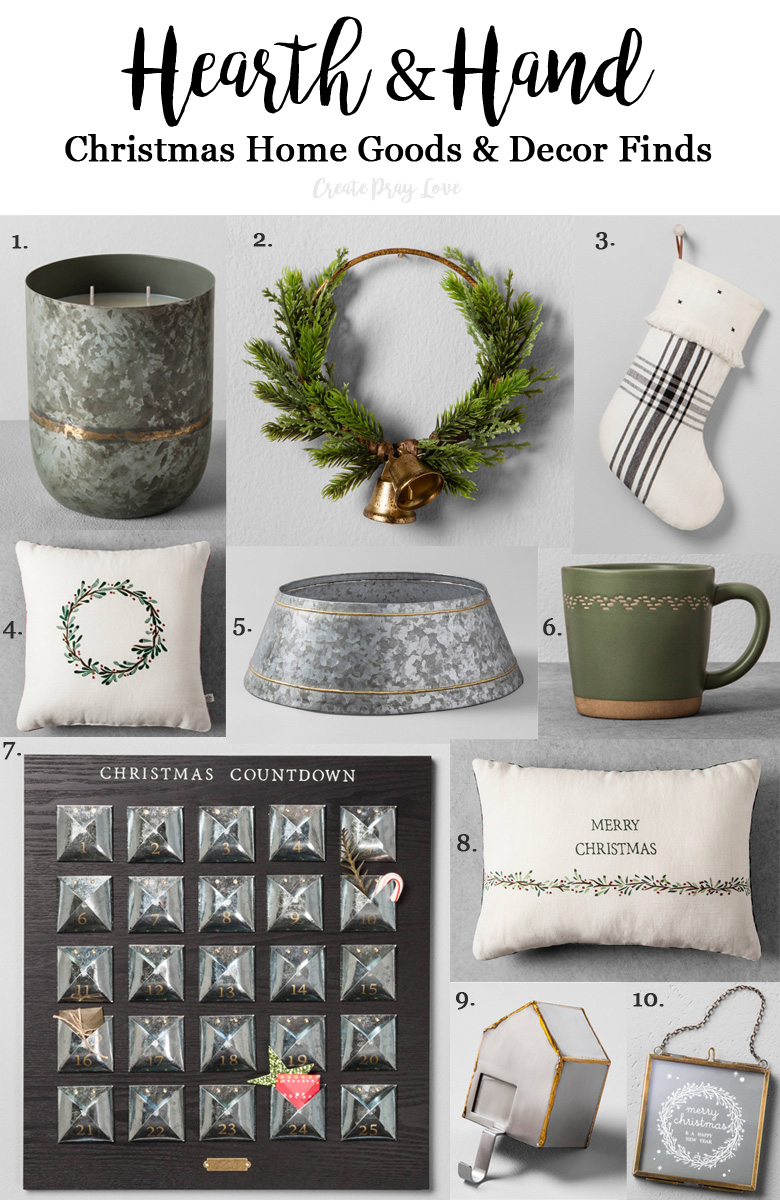 1. Galvanized Container Candle – Balsam & Spice*
2. Artificial Pine Wreath with Bell*
3. Plaid Holiday Stocking *
4. Embroidered Wreath Throw Pillow*
5. Galvanized Metal Tree Collar*
6. Stoneware 14 oz. Mug*
7. Advent Calendar with Galvanized Envelopes*
8. Merry Christmas Embroidered Throw Pillow*
9. Galvanized House Stocking Holder*
10. Pressed Glass Photo Frame Ornament*
Aren't these all just so adorable?
I just have to say I especially love the galvanized metal tree skirt, the candle container, & then the house shaped stocking holder! I could really use a fireplace mantel right about now.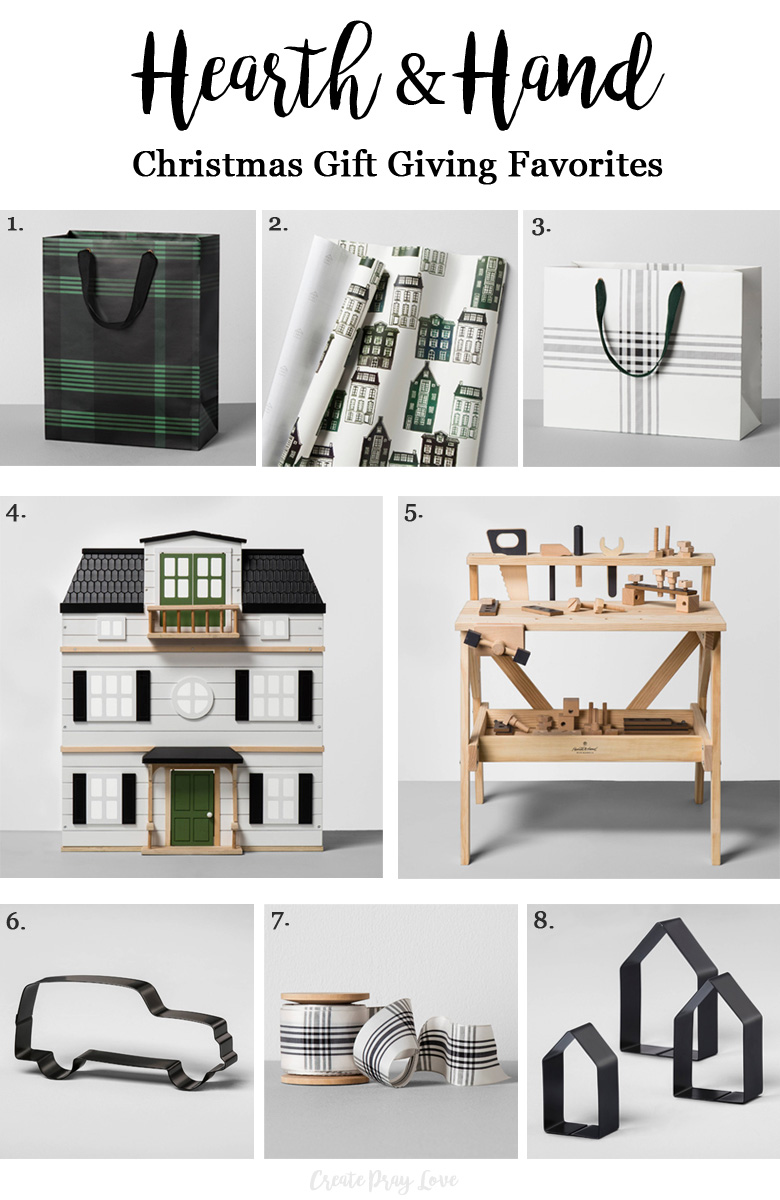 1. Green Plaid Gift Bag*
2. House Print Gift Wrap*
3. Cream Plaid Gift Bag*
4. Wooden Dollhouse with Furniture*
5. Wooden Toy Tool Bench*
6. Truck Cookie Cutter*
7. Plaid Fabric Ribbon*
8. House Cookie Cutter Set*
I think either of the cookie cutter products would make wonderful Christmas gifts! And then I'm of course obsessed with the dollhouse… it even comes with the cutest furniture! I would have looooved having something like this when I was younger. 
And finally, their gift wrapping options are on point! They have even more available than what I'm showing you here, like house printed tissue paper. Seriously. I'm in love! 
Did you see the Hearth & Hand products in store yet? Did you buy anything? Was there anything you really loved?
MORE POSTS LIKE HEARTH & HAND HOLIDAY FAVORITES: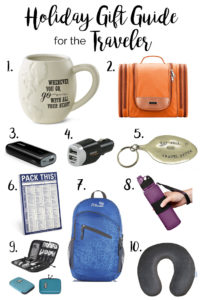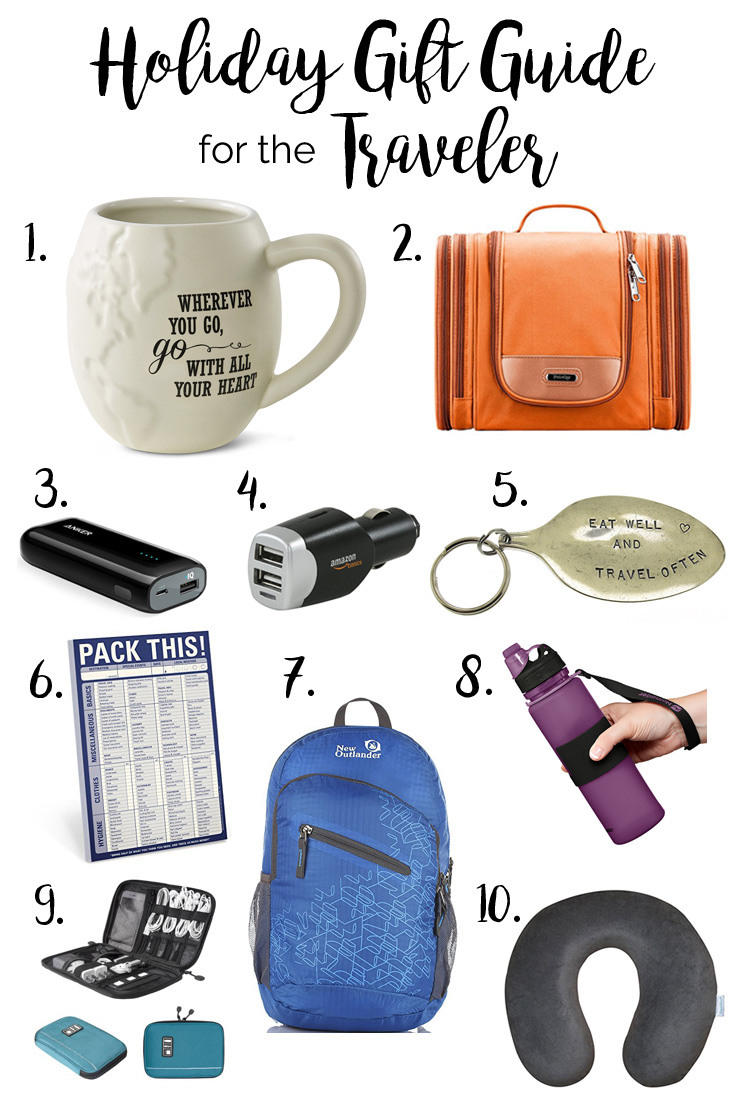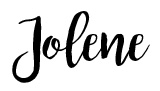 Connect with me on social media!
facebook - twitter - pinterest - instagram